By Far The Best Of Nanaimo's Local Moving Companies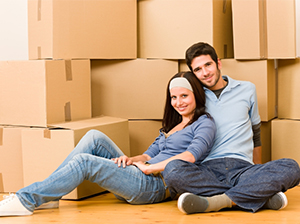 Whether you're moving to a new apartment, house, or condo in the Nanaimo, BC, or any of its surrounding areas, the professionally trained and courteous Nanaimo movers at Sunrise Moving & Storage can help. No matter if it is a big or small job, we've got you covered. We offer:
Free estimates

Reliable & experienced staff

Safe & secure transport

Packing supplies

Packing & unpacking services

Spotless cleaning services

Competitive rates
Our packing services are very popular. We'll take the tediousness out of your move by packing and unpacking your boxes for you. This can be  a great relief for busy families that have full-time work, school, and parenting responsibilities.
Another of our popular convenience we offer are our cleaning services. We'll clean your new home before you arrive, so it is ready for you to move in. We can also clean your old home, so you can pour all your energy into your new, exciting home. Let Sunrise Moving and Storage take the hassle out of your move with our professional cleaning services.
For more information, or to arrange a free in-home estimate for your local next move, please contact us.
Need our commercial movers to move your company to Nanaimo, BC
Our highly skilled professionals can manage every detail of your commercial business move. You can trust Sunrise Moving & Storage to transport your entire office with the care and efficiency you would expect from an experienced moving company. We offer:
Competitive rates

Experienced & professional staff

Safe & secure transport of office equipment & supplies
---
"By Far The Best Moving Company"
"We have moved around a lot, and this is by far the best moving company we have used. We have had a lot of bad experiences with other companies, but Sunrise was excellent! Highly recommended."
–S. Taylor
---
5 Reasons To Hire Our Nanaimo Movers
When preparing for a move, there are a lot of things to do and consider. You may enlist the help of friends and family to help pack, clean, and find a new place to live. To make the process go smoother on moving day, you may want to consider hiring some help. There are many benefits to hiring a moving company to help with your move. When you are already stressed, having professionals nearby to handle your things can make the day go much better than expected. If you are still not convinced, here are 5 reasons to hire a professional Nanaimo moving company:
Packing Knowledge
Most people think that packing is an easy task. Little do they know that there can be mistakes made while packing. For instance, when things are not packed properly you could end up using a greater amount of boxes, packing peanuts, and newspaper. This costs you time and money! Another problem is that delicate items may not be securely packed and may be at risk of breaking. Allowing a professional to pack your breakables with proper and efficient techniques can stop accidents from happening while also saving supplies. Another added bonus is that the professionals will bring their own supplies with them, leaving very little work for you to do.
The Right Equipment
Along with their professional supplies, moving companies also have equipment that is specially made for moving! The trip from your house to the truck to the new house can be dangerous for your items, but the specialty equipment can help make sure everything arrives safe and sound. Using ramps and dollies will make the moving process fast and easy. Aside from keeping your items safe, you want to stay safe as well. Allowing the professionals to move your things, especially large items, safely with proper tools can save you from potential strain or injury also.
Insurance Policy
Any reputable moving company will have an insurance policy for your items. If by chance an accident did happen and something damaged your items, the insurance will protect your items and keep the movers accountable. This gives you a guarantee that your items will be well taken care of, and even if something did happen, they will be replaced without hassle.
Mapping Routes
Taking one or many vehicles full of your belongings across a town or province can be tricky, so you don't want to have to worry about mapping routes and timing with traffic. Professional companies take this trip all the time, so they know they best roads to take at what times of the day and year. Moving companies will take the time to plan the route ahead to get your things to your new home quickly and safely.
Storage Options
Sometimes moving house doesn't go smoothly, and you may be ready to go when things fall through. Being able to count on your movers to store your belongings in a time like this can take a lot of stress off of your shoulders. It is nice to know that if something does go wrong, you have a safe and convenient place to keep your things until you can get back on track. If a company has it's own storage facility, they will even move your items into storage and retrieve them for you when you need them again. Keep in mind that this may cost extra, but it is better than having hundreds of boxes and nowhere to put them. A good moving company will not leave you in the dust when things don't go quite as planned.
Now that you have decided to hire a moving company, take the time to do your research and find one that will work best with you. Consider your budget and ask around for the best price for the services you will need. Also make sure to always make your company aware of any items that will need extra special care. If you are doing a long distance move, check how far the company is willing to travel, and if they have a good route to your new home. Lastly, double check to see if they have storage options and a solid insurance policy just incase things don't go as planned.
Moving can be stressful, but it doesn't have to be. If you are looking for a professional moving company, contact us at Sunrise Moving and Storage. If you are planning a move around Nanaimo or Central Vancouver Island and will need some help before, during, and after the big day, we will be there to lend a hand.